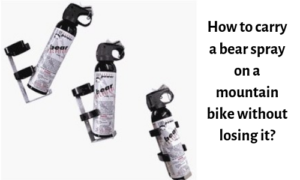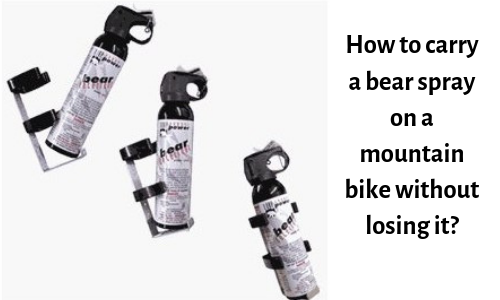 How to Carry Bear Spray on a Mountain Bike Without Losing it?
As bikers are becoming more popular and the distribution of bears expanding as well, this has become an emerging issue nowadays. People have died from encounters like that.
The number of bears as well as mountain bikers is growing frequently in the west. Therefore, measures are required in order to prevent such incidents from happening. It is a nightmare if you are on the trail and you encounter a bear, you'd definitely panic.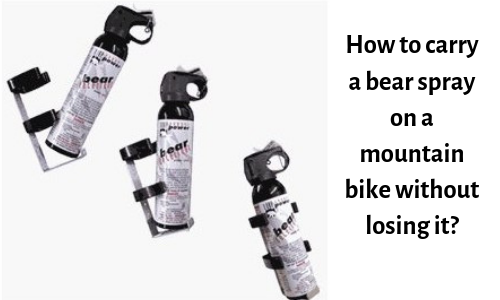 Here's the deal:
Therefore you should carry a self-defense weapon, such as bear a spray with you. This article will discuss the best way mountain bikers can carry a bear spray with themselves, as a safety precaution from an attack.
If you're a biker on the go and encounter a bear attack, some of the measures that you can take include making noise, slowing down your bike, since bears can be expected in the woods bikers should look out for them.
You can use Bear spray with holster:
Apart from these measures, it is recommended that bikers should carry a bear spray with themselves, the right position would be a holster that is at the back or a chest holster in such a way that it does not interfere or cause any hindrance in the pedaling.
Furthermore, when you're travelling in a group, then also each individual should carry a bear spray with them in order to protect each other in case even one of them is attacked by a bear.
You can also carry the bear spray on a hip belt, considering that an elastic holster is attached to that belt. It would be easy to carry and at the time of need, use it on the bear. The best part?
Attach bears spray on your bike:
Apart from this you can attach the spray somewhere on your bike as well, in a bottle or pouch, such that it is easy to grab and use when in need. This will be a good position as it will take you seconds to reach out to it.
Assuming that you've kept the spray in your bag-pack and you encounter a bear, it would be a panic situation and getting to your bag for the spray would slow you down. Instead you would prefer running away. Therefore, select a position that will be easy to reach. Attaching it to a hip belt would be the best way to carry it as you can reach it easily.
Why does this matter?
Bear attacks in the West have become an emerging issue nowadays, with the increasing population of bears as well as bikers. Bear sprays have been introduced so that bikers can use it as a self-defense weapon and the killing of bears can be lessened, as a prevention step from an attack.
Therefore, if you're a hiker or a bike rider, it is highly recommended that you carry a bear pepper spray with you while you hike. Prevention steps are necessary in such cases.