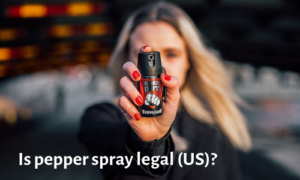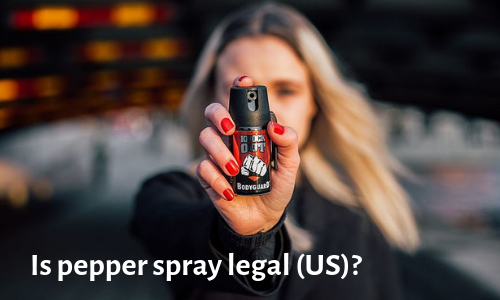 Is Pepper Spray Legal (United States)?
Before you proceed to purchase or use pepper spray, it is essential that you find out more about its legal status in your state. Failure to do so can land you in trouble. Also, you might want to learn more informative facts about pepper spray.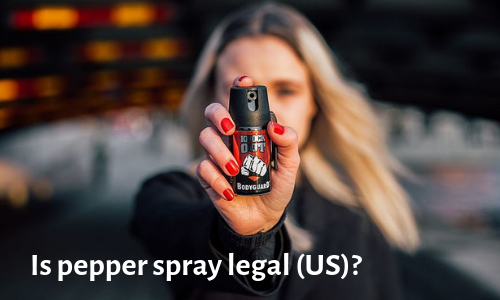 The legal status of pepper spray in states of US
Carrying and using pepper spray is legal in all the states of the US. However, some states have imposed some restrictions on it with regards to the size of can you may carry, the strength of pepper spray and the age of the person.

In most of the states, these sprays can only be used by people over 18 years of age. However, these laws are often subjected to change. Thus, it is advisable to keep a check on the current state laws to avoid landing in any trouble.
Therefore, contacting your state attorney's office to get a clear picture might be a good idea.
Laws in some states of the US
Let us take a look at the laws in some of the states of the US. It is legal without any restrictions in Alabama, Arizona, Colorado, Connecticut, Georgia, Idaho, Kansas, Kentucky, Indiana…
Pepper spray is legal with some restrictions in Alaska, Florida, Hawaii, New York, New Jersey, Nevada, Michigan, North Carolina…
Down below I have prepared table which will define all pepper spray laws by state in the US. Take a look!
Papper spray laws by state: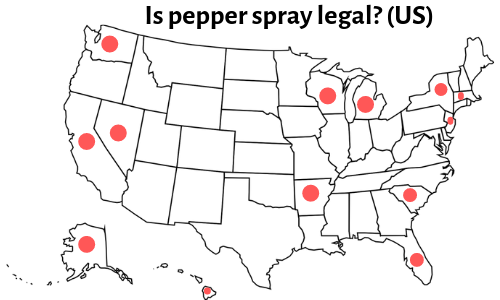 Alabama
LEGAL
Alabama pepper spray law
Alaska

LEGAL with restrictions:
User must be over 21 years old to carry pepper spray in school
Alaskas pepper spray law
Arizona
LEGAL
Arizona pepper spray law
Arkansas
LEGAL with restrictions: pepper spray canister must be 5 ounces or less
Arkansas pepper spray law
California
LEGAL with restrictions:
self-defense spray canister cannot exceed 2,5 ounces
California pepper spray law
Colorado
LEGAL
Colorado self-defense laws
Connecticut
LEGAL
https://www.cga.ct.gov/2015/amd/S/pdf/2015SB-01109-R00SB-AMD.pdf
Delaware
LEGAL
Delaware pepper spray law
Florida
LEGAL with restrictions:
pepper spray canister must be 2 ounces or less,
seller need license
Florida pepper spray law
Georgia
LEGAL
Georgia self defense laws
Hawaii
LEGAL with restrictions:
Self-defense spray canister cannot exceed 0,5 ounces,
seller license
Hawaii self defense law
Idaho
LEGAL
Illinois
LEGAL
Indiana
LEGAL
Iowa
LEGAL
Kansas
LEGAL
Kentucky
LEGAL
Louisiana
LEGAL
Maine
LEGAL
Maryland
LEGAL
Massachusetts
LEGAL with restrictions:
You can only buy it from in-state licensed firearms dealer,
can't ship it through the mail to the state,
you can buy animal repellent online
Massachusetts pepper spray law
Michigan
LEGAL with restrictions:
pepper spray canister must be 1,2 ounces or less,
may not contain more than 18% Oleoresin Capsicum or 1.4% Major Capsaicinoid
Michigan pepper spray law
Minnesota
LEGAL
Mississippi
LEGAL
Missouri
LEGAL
Montana
LEGAL
Nebraska
LEGAL
Nevada
LEGAL with restrictions:
CS tear gas canister must be 2 ounces or less,
no limits on pepper spray
Nevada pepper spray law
New Hampshire
LEGAL
New Jersey
LEGAL with restrictions:
self defense canister must be 0,75 fluid ounces or less
New Jersey self defense law
New Mexico
LEGAL
New York

LEGAL with restrictions:
can't ship it through the mail to the state,
you can buy animal repellent online
New York pepper spray law
North Carolina
LEGAL with restrictions:
self defense canister must be 5 ounces or less
North Carolina pepper spray law
North Dakota
LEGAL
Ohio
LEGAL
Oklahoma
LEGAL
Oregon
LEGAL
Pennsylvania
LEGAL
Rhode Island
LEGAL
South Carolina
LEGAL
South Dakota
LEGAL
Tennessee
LEGAL
Texas
LEGAL
Utah
LEGAL
Vermont
LEGAL
Virginia
LEGAL
Washington
LEGAL
West Virginia
LEGAL
Wisconsin
LEGAL with restrictions:
Self-defense spray canister cannot exceed 2 ounces,
cannot contain more than than 10% oleoresin capsicum or 1.2% major capsaicinoids
Wisconsin pepper spray law
Wyoming
LEGAL