The Best Pepper Spray With UV Dye
I have researched the best pepper sprays with UV dye. This is an invisible marking dye which can help police recognize your attacker. They can do this by using ultraviolet light (UV). Some of these dyes can be permanent, so don't use it just for fun.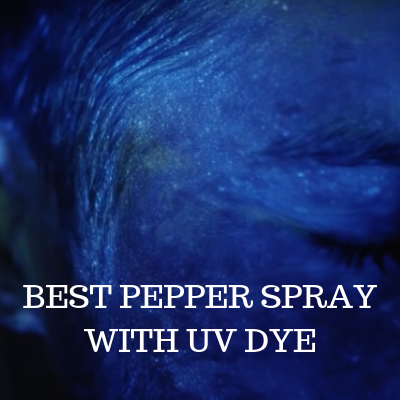 Pepper Spray can be an effective and cheap tool when it comes to self-defense. It is not lethal but is effective. These days you can choose between a lot of types. A lot of people use the keychain version, many of them also contain a UV dye. Inform yourself before you choose:
Here is a quick list of pepper sprays with UV dye:
1. Sabre Red Pepper Spray – Runner
2. Fox Labs Mean Green H2OC
3. Fox Labs Flip Tops
Can you legaly use it?
Heres the thing. If you want to buy pepper spray with UV dye and you live in Wisconsin. I have bad news for you. You cant buy such a spray in your country, in fact, it is illegal. But the good news is that you can use other pepper sprays, check them out in these best pepper sprays.
Best pepper sprays with UV dye
I think these pepper sprays with UV dye are worth trying. All of them will give you the protection and evidence you need. The following are:
This is number one in my list of recommendation because of its acceptable price, very strength formula and a high number of shots. It contains UV dye and its shelf life is for approximately 4 years. It is specifically designed for runners with a hand strap attached, so they can carry it in their hands all the time. I have discovered a lot of good and inexpensive pepper sprays specially designed for runners, check them out.
The stream spray range is 1o feet and an added security feature prevents accidental discharge. But the only drawback is that the twist top safety may get stuck at times, test it before you use it in a real life situation.
Fox Labs Mean Green H2OC
This is second in my list of top picks. The mean green H2OC formula is one of the strongest on the market and contains green marker dye to distinguish the attacker. The number of shots and spray range are great for the product's size.
The product is also available in large size. It has a large nozzle opening which makes the maximum amount of formula to be sprayed at once. It has a shorter shelf life than its competitors, three years. This spray have a permanent UV dye.
Fox Labs Flip Tops
This product is third on our list. The spray range is longer than the usual range of 17-20 feet with a high number of shots. The product size is slightly larger than our second recommendation. It has a flip top which prevents any accidental discharge of the high strength formula.
Although not as hot as Mean Green H2OC but it contains UV marking dye for easier assailant identification. On top of that, the shelf life is two years, it is available at a reasonable price.