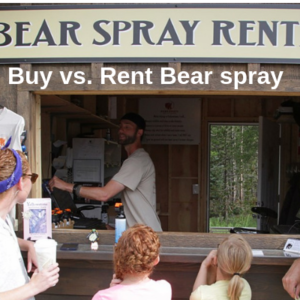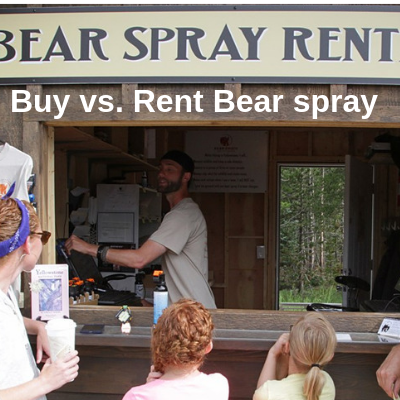 Buy vs. Rent Bear spray / What is a better option?
Should you buy or rent bear spray? This is a question that often tends to confuse people. In case if you plan to travel by plane, be aware that bear spray is not allowed in checked luggage. For this reason, renting spray would be a good choice.
Various stores offer bear sprays for rent as well as for purchase. So which would prove to be a better choice for you? This largely depends on how often you will need the spray.
Do you usually go on such trips in the woods or wilds? If yes, it would be better if you purchase it since the spray would last for a long time and save you from a lot of trouble.
How long is the trip? If your trip is going to be long wherein you will have to pass through a number of such areas where bear attacks are frequent, perhaps purchasing the spray would be more suitable for you.
The thing about rental bear sprays is that you will have to drop the spray back off to the shop from where you rented it. If you rented it in the middle of your journey after learning about the threat of bear attacks, dropping it back off might be problematic.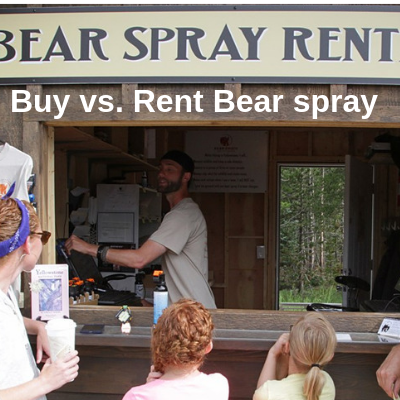 As per studies, using guns to deal with wild bears seldom works, and thus you need something that would ward off danger effectively. This is where the use of bear sprays steps in.
How do bear sprays work?
The primary function of bear sprays is to ensure that you get enough time to get out of the way of danger. When you spray at the bear's direction, and it reaches the face of the bear, a cloud is formed. The bear will close its eyes while at the same time its lungs would constrict.
There is an increased production of mucus in the body to get rid of the pepper. As a result, there is watering of eyes along with wheezing and cough that the bear experiences. During this period, you get the opportunity to get to safety.
Is Bear Spray allowed in National Parks?
The answer to this question varies according to the particular national parks, each park has its own guidelines and regulations which one has to follow.
Generally, the national parks which have witnessed the severe attacks by bears allow the sprays inside, for example, Great Smoky Mountain National Park and Yellowstone National Park.
Though there is nothing wrong in carrying these sprays as a safety measure still few parks restrict them like Yosemite National park and Sierra National Forest. It is a good idea to check with the park authorities before entering it.
Do not compromise on your safety
Your safety needs to be your priority. You need to ensure that you are equipped to deal with any danger that might come your way at any given instance. Quite a lot of people like to embark on an adventurous trip.
While such trips can be exciting and fun, they can also turn dangerous if you do not have anything to protect yourself from impending danger. During such trips, encountering a wild bear is not unheard of.
Whether you should buy a bear spray or rent it depends on your requirement. If this trip is a one-time thing and you hardly think it is probable that you will have to worry about bear attacks again, renting might work for you.
However, if you are someone who is keen on such trips, purchasing a bear spray will keep you protected for a long time to come. Do not compromise on your safety. Make sure that you have taken the necessary measures to deal with any dangerous situation.