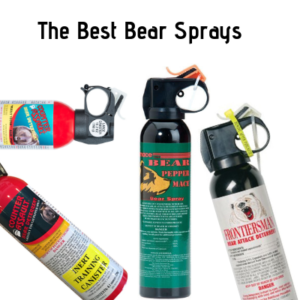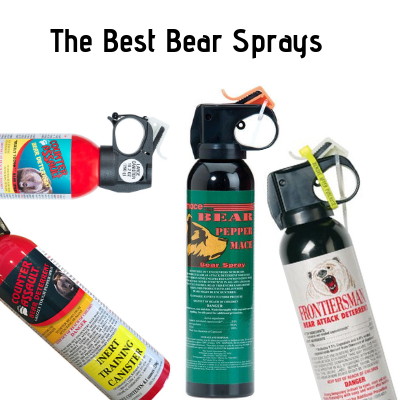 Best Bear Pepper Spray
If you're an outdoorsy person who loves to camp, hike, go rafting or explore an area that is known for housing bears then you must carry a bear spray. Here is a quick list of the best bear sprays. If you need to explore more of them you can find them later in the article.
Counter Assault
Frontiersman Bear Spray
UDAP Bear Spray
Mace Brand Bear Attack Survival Spray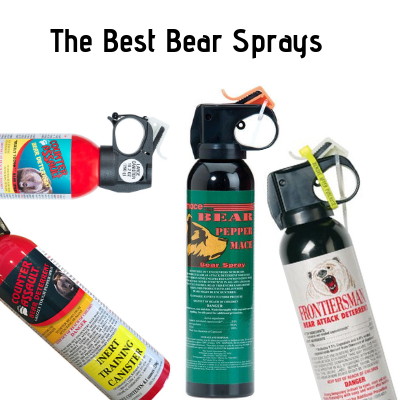 How to choose the best bear spray?
When buying a bear pepper spray, one must put in considerable thought, because you're not choosing anything usual, you're choosing your lifesaver. You must weigh the pros and cons before buying any bear spray. Following are some of the things you must consider:
Holster or no Holster
When you're hiking on a difficult terrain you do not want to have your pepper spray tied up in your bag. You want it to be as close to your grasp as possible, as bears attack in surprise situations.
For that reason, you have to make sure that your chose pepper spray that comes with a holster. If your holster is weak or uneasy you'd have to put it in your backpack. And we all know that you'd rather have no bear spray than have a bear spray in your backpack.
Holster Position
The holster your pepper spray should have an easy clamp on space, so you can have it on your chest or hanging from your belt. This gives the pepper spray the most secure and accessible place. You also need your holster to be handled easily. In case of emergency you must be able to detach it without any hassle.
Powerful Components
When attacked by a bear you will have only a few seconds to respond, for that you need to choose a pepper spray that has active ingredients. You need the bear to be distracted in split seconds to be able to save your life. The best chemical that works on bears is Capsaicin, which is made from red hot chili peppers. This chemical instantly irritates their eyes and makes them run for their safety. Don't use any other spray as an alternative to pepper spray.
Ample Spray Time
Another important factor that you need to consider when choosing your bear spray is its spray time. All the available pepper sprays will give 3-5 seconds which is not that much, when you think of it. Even if the spray bottle states that their spray time is enough for the bear you need to make sure you choose the one with the longest spray time.
Range of the Spray
When you have a bear standing in front of you, you'd want to be as far away from it as possible. That is why the range of your spray canister needs to be maximum.
It's true that the closer you are to the bear the more effective your spray will be but you won't need to be near if you have ample range.
The Best bear sprays out there
We've curated a list of best bear deterrent sprays that you can chose from:
Counter Assault bear detterent review
Successfully used by hikers and campers alike, this has been a very popular choice for keeping bears at bay. The spray has a range of 12-32 feet and can be sprayed for up to 9.2 seconds, which is longer than other sprays.
The spray has a glow in the dark feature that makes it easily accessible after dark. In 1998, it became the first bear deterrent pepper spray to achieve US Environmental Protection Agency registration.
It is more expensive than the rest but then it is larger than most with more content. It is quite sensitive and should be used with caution, if not it could cause harm to the user, rather than the attacking bear. The Counter Assault spray is easily available at outdoor stores and utility stores.
Pros; safety cap secure, long time spray, a large volume of spray. The 10.2 oz. Can spray for up to 9.2 seconds, it can be used for any predator and other aggressive animals, not just bears, it has a glow in the dark safety feature.
Cons; big and breakable canister, the holster can wear off over time, so it is recommended to replace it in less than 3-4 years
Weight; 8,1 oz. or 10,2 oz.
Range; up to 32 feet.
Accessibility; it has a sturdy belt holster for easy access.
EPA approved; EPA maximum allowance for CPC's at 2%.
Spray pattern; it comes out in a read cloud and designed for high visibility.
Frontiersman Bear Spray review
This Frontiersman Bear Spray has the maximum amount of chemical allowed by Environmental Protection agency. The 7.9 ounce can has the ability to empty faster than other variants of bear sprays.
The spray is manufactured by Sabre, a company that manufactures sprays for law enforcement. This bear spray was tested in Alaska as have been deemed effective. It is effective for brown, black and polar bears, disables bears without causing bodily harm.
Another important thing about the Frontiersman Bear Spray is that it lets you chose between a belt holster and a chest holster both in the same price range.
Pros; puts a great distance between you and the attacking bear, biggest barrier per one-second burst, glow in the dark allows you to fund the canister immediately in the dark.
Cons; bulky container, flimsy holster.
Weight; 7.2 or 9.2 ounces.
Range; it has a maximum range of 35 feet for 9.2 oz canisters and
7.2 oz can fires up to 30 feet.
Accessibility; provides hip and chest holster that has user-friendly straps for easy accessibility to your canister during an emergency.
EPA approved; maximum strength (2.0% major capsaicinoids).
Spray pattern; Fogger, 52 grams of pepper per one-second burst
Frontiersman Practice bear deterrent review
A bear spray will be only effective when the user knows how to use it well. To make sure that our campers are well-versed with bear sprays, Frontiersman has come up with a practice spray. This practice spray is water based and hence its useless when used on any animal. The point of this practice spray is to practice range and aiming.
This product is great to teach your families how to use it when needed. People who need guidance can use this spray and its video to get a clearer idea. The can is for single time use only. However, some customers shared that this can should be priced low and should come in a pack of two. The practice spray can be procured from Amazon at $20.
UDAP bear spray review
The UDAP bear spray is make by bear attack survivor and it uses all-natural ingredients. This makes it a very reasonably priced product. The purchase of this bear spray comes with a free 32-page UDAP Bear booklet on safety tips and usage.
As soon as the spray is pressed it releases a uniform fog that engulfs the animal approaching. It is recommended that you practice the use of UDAP bear spray before hitting the hard areas. The spray can be easily purchased online through UDAP's website.
Pros; glow in the dark safety clip with a chain attachment, the holsters are designed in a way that the fluid that shoots right out of the canister from the holster, proven to be very effective.
Cons; a smaller amount of spray, loose holster.
Weight; 7,9 ounces
Range; 30 feet
Accessibility; With chest or hip holster it is comfortable to carry and easy to access when the need arises
EPA approved; Yes
Spray pattern; Fogger
Mace Brand bear Attack Survival Spray review
The bear spray by Mace is a premium product. The company is known for making sprays for use by law enforcement agencies. The can weighs 9 ounce and can spray up to 35 feet giving you safe distance from the attacking animal. Spray time is six seconds.
When faced with an attacking animal, distance and spray power are two most crucial factors. The contents of the spray are made out of natural ingredients and will not permanently injure the bear.
This spray also contains the highest level of capsaicin allowed by the EPA which ensures effectively startling the attacker. The spray comes with holster and is available even on Amazon.
Pros; powerful spray, covers a wide arena, does not leak while spraying, trusted brand.
Cons; large canister
Weight; 9 ounce
Range; sprays up to 35 feet.
Accessibility; loop handle makes it easy to grab
EPA approved; Yes
Spray pattern; Fogger
Guard Alaska bear spray review
This spray is made to be effective on all categories of bears. The 9-ounce bottle has smaller range than most sprays available (15-20-foot range).
The spray is inflammable and does not contain harmful chemicals for the environment. The canister also has a safety lock in case of any accident. It needs to be replaced timely because some users have reported leakage. The spray is easily available at amazon. It is priced at $36.
Pros; EPA registered, ultra hot, non-flammable content, environmentally friendly, works on all species of bears, highly effective.
Cons; safety lock is hard to release, doesn't reach as far as other sprays.
Weight; 9 ounces
Range; approximately 15-20 feet.
Accessibility; easily accessible, light and easy to carry. Available with nylon holster with Velcro closure and has a belt loop.
EPA approved; yes
Spray pattern; fogger
Pepper Defense (Guard Alaska) 4 Pack review
If you're an adventure junkie or you're friends with an adventure lover the best thing you could get them is this pack of anti-bear sprays. This is a cheaper alternative to buying separate canisters. The pack also contains 4 holsters for each of the sprays.
The spray can be used in one single burst or is small regular bursts to scare the bear away. These canisters can be attached to a belt clasp for easy accessibility. The built of the can give a good hold as it is easy to clamp. The pack of 4 is very good against the price its available at. The pack can be bought from Amazon.
Which one to choose?
Listed above are all the great options available for bear sprays. In the light of all the factors listed above, make an enlightened decision.
How effective is bear spray?
Bear spray is no doubt a very useful and effective tool to repel attacking bears. But somehow, it does have a minor ratio of failures where bears dodged the spray and attacked people. The cause of the failure could be anything like spraying in the wrong direction or spraying from a wrong distance.
Example: A woman got killed in Alaska from a black bear attack as her attempt to use pepper spray was failed.
How to Use a Bear spray
When used properly, bear spray is a very effective deterrent. "When used properly" is the key phrase because if not applied right, logically it won't have the desired effects. So here are steps to doing that;
• Make sure you are at least 20 feet away from the bear.
• Aim towards the approaching bear, adjust your canister for wind direction.
• Press the trigger with your thumb.
• Spray a little bit to the side of the bear, as a warning. If it still approaches, aim directly for his face.
• Spray in a 2-3 second burst.
• Continue deploying if it persists, as you gradually step backward.
• Once the bear has retreated or is disoriented. Leave the area stealthily. Do not run.
Where to buy bear spray?
Bear pepper spray can be bought from different places like pharmacies, stores and even on the internet. Many popular online shopping websites like Amazon display them online. It's available at many retail stores also, for example, WalMart. Take a look, I have written another article regarding bear spray buying.
Is bear spray legal?
Use of bear spray is legal in many counties like U.S.A and Canada. Although, it is not allowed to be carried along in the boundaries of different parks of United States. And as mentioned before, in most of the countries it is allowed to be used on bears only and there is a strict rule that prohibits using it on human beings. It is illegal to carry it in UK.